Welcome to another episode of Iron Craft! A quick announcement before we start… we still need more crafters to join in the Get Scrappy blog hop! Check out the details in this post!
On to Iron Craft now… My guest today needs no introduction! Actually all of my guests don't but you have got to be living under a rock if you don't know today's guest!!
YES thats right!! You saw the photo… She is Cristina Kowalczyk! She was Papercrafts Gallery Idol in 2011. She is currently on the design teams of some of my favorite stamp companies like Papertrey Ink and Wplus9. And she has a loong list of published work which includes 2 books (not about cardmaking)!! Oh and if you need another reason to get inspired by her, she does all of the above while being a mommy!
She has a great CAS style and can make the most amazing cards with lots of whitespace and creative stamping. I first started getting drawn to CAS from Cristina's blog.
Go say hi to her and follow her. You won't regret it! And if you have come here from her blog, a big Welcome to you!
Ofcourse we had to go with a Papertrey Ink stamp set today! We chose the PTI Framed Out #6 set.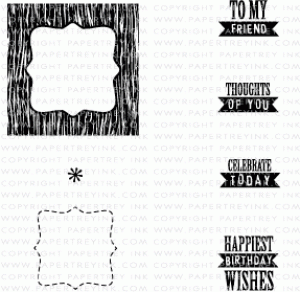 And we also chose a sketch. This one from CAS(E) This Sketch!
Read on to see what we came up with…
Here is what we made! My card is on the left and Cristina's is on the right.
My card today is certainly inspired by Cristina's style. Part of Iron Craft for me is to learn my guest's style from them because they know it best!! I have always been afraid of repeated backgrounds from a single stamp but for this card I gathered the courage to try. Was really careful and precise with the stamping. I think I did OK. What do you think?
Hop over to Cristina's blog to read more about her card! Do leave a comment before you go so I can visit you too! Thanks for stopping by!!